Sleigh and Cutter
In the winter, horse-drawn sleighs were used to carry people, supplies, and mail. Some wagons were converted to sleighs for the winter. People bundled up and heated bricks or stones kept their feet warm. Crossing frozen lakes in the winter shortened travel time.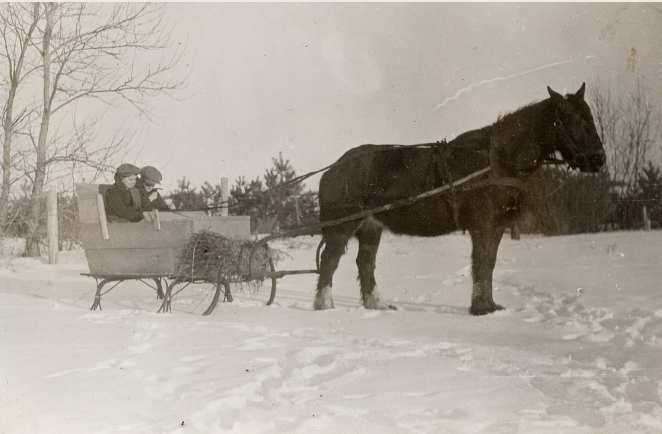 PHOTO CREDIT: WESTERN DEVELOPMENT MUSEUM
These kids are being pulled with a horse and cutter in 1924.
Sleighs were built sturdier as they were intended to haul a large group or family. Cutters were smaller sleighs and meant for leisurely driving to a neighbour's house or to town.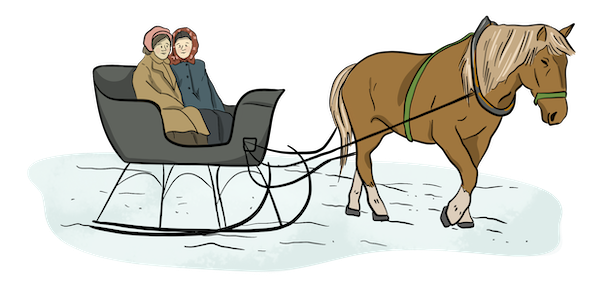 A cutter is used for a couple of people, while a sleigh is sturdier to haul a larger family.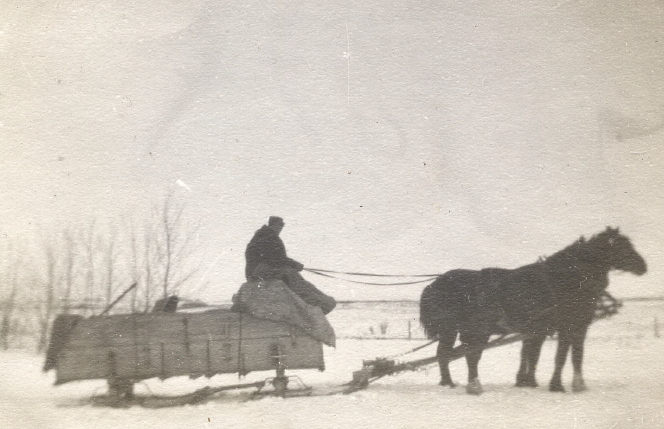 PHOTO CREDIT: WESTERN DEVELOPMENT MUSEUM
A man is using a sleigh to haul wheat to the elevator.
Snowshoes and Sledges
Travel was difficult in deep snow. Indigenous Peoples (First Nations and Métis) involved in the fur trade used snowshoes and sledges or toboggans for winter. The sledges were flat and lightweight. Snowshoes and sledges were also used by settlers living in wooded areas. Using these technologies made trapping for meat and furs easier.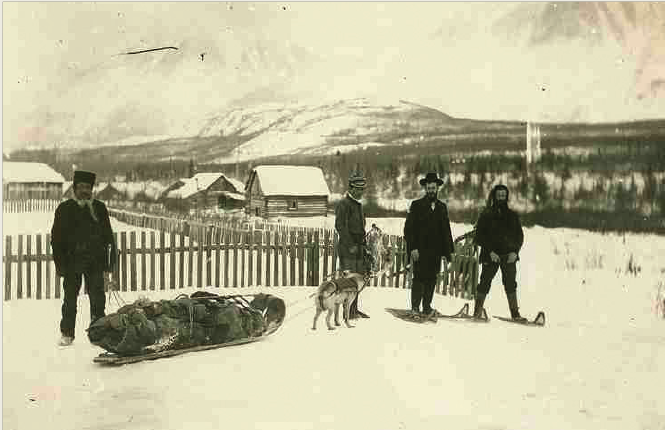 PHOTO CREDIT: WESTERN DEVELOPMENT MUSEUM
Men from Hudson's Bay Company are using a toboggan and snowshoes to travel in the winter.
A load of supplies or firewood could be hauled on a flat sledge pulled by oxen or horses. The sledge glided over the snow. Sledges were also used in the summer for pulling heavy loads (rocks, tree stumps, and barrels of water). Homesteaders had sledges called 'stoneboats' to haul stones and rocks from fields when they were clearing the land. A sledge could be pulled over the ground, grass, ice, and snow so it was used all year round.
A load of supplies was hauled on a flat sledge that would glide over the snow as it was pulled by oxen or horses.