Cultured Meat
Cultured meat is made by growing animal-based protein products from cells instead of getting it from animals. This style of meat is grown in a factory-type laboratory.
Step 1
Live cells are painlessly taken from the muscle of chickens, pigs, cattle, or fish.
Step 2
The cells are put in a special medium, which is a solid, liquid, or semi-solid support that aids the growth of cells.
Step 3
The medium provides the cells all the nutrients they need to grow and multiply.
Step 4
The cells grow into muscle fibres, and the fibres can be processed and mixed with other ingredients to make minced or ground meat. The minced meat can be used to make burgers, sausages, and hot dogs.
Step 5
To grow cultured meat, there is no need for feed, water, or medicine for the animal, potentially making this method of meat production less expensive.
How is cultured meat created?
This shows the steps that are required to make cultured meat and deliver it to the consumer.
Learn about cultured meat and the scientific process of making it.
Plant Protein
Plant-based protein is food that comes from plants such as lentils, chickpeas, peas, and beans. This style of cooking is starting to be popular, especially with fast-food restaurants selling vegetarian burgers, tacos, etc. These foods are designed to taste just like animal meat and have a similar texture but don't contain any animal products. This is great news for Saskatchewan crop farmers, as much of the plant protein used comes from lentils, peas, and chickpeas.
The protein in this meal comes from chickpeas.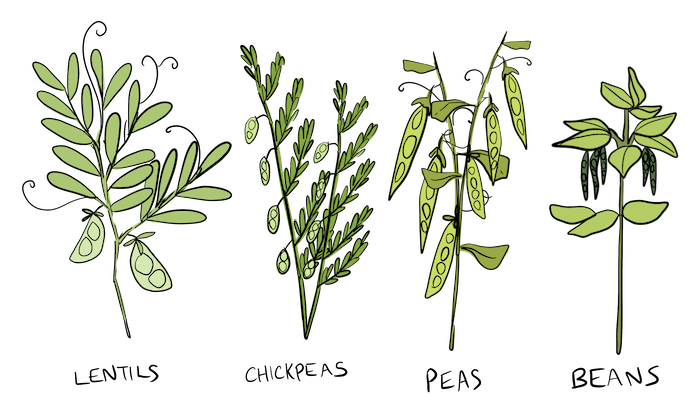 Plant-based protein comes from plants such as lentils, chickpeas, peas, and beans, which are all grown in Saskatchewan.
There are a variety of legumes that have lots of protein and fibre in them that are also low-cost and available around the world.
Learn about the protein options that can be provided by plants.
Smart Factories
Just like the rest of the world, factories are becoming more high-tech. Factories of the future will be highly digital, where machinery and equipment will improve food production through automation and self-optimization. Sensors and other data-collecting equipment will make sure our food is safe and ensure less food is wasted.
Smart factories will not require very many people to work manual labour jobs. However, many humans may be needed to design, code, maintain, and fix the machines and processing lines.
Factories of the future will be high-tech and will not require humans to do very much manual labour.
This smart factory is making crackers that use many ingredients grown in Saskatchewan.